What is a pneumococcal infection?
Pneumococcal infection broadly refers to diseases caused by Streptococcus pneumoniae (or pneumococcus), and there are more than 90 different serotypes. However, only about 10 of them cause serious disease. Pneumococcus causes not only sinusitis and middle ear infection (otitis media), but also severe and fatal invasive pneumococcal diseases such as pneumonia, septicemia, and meningitis. In young infants and the elderly, the consequences of invasive pneumococcal disease are typically severe.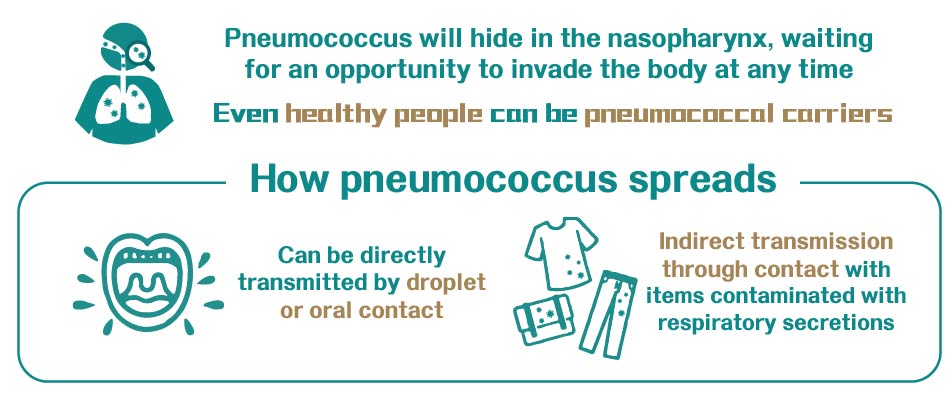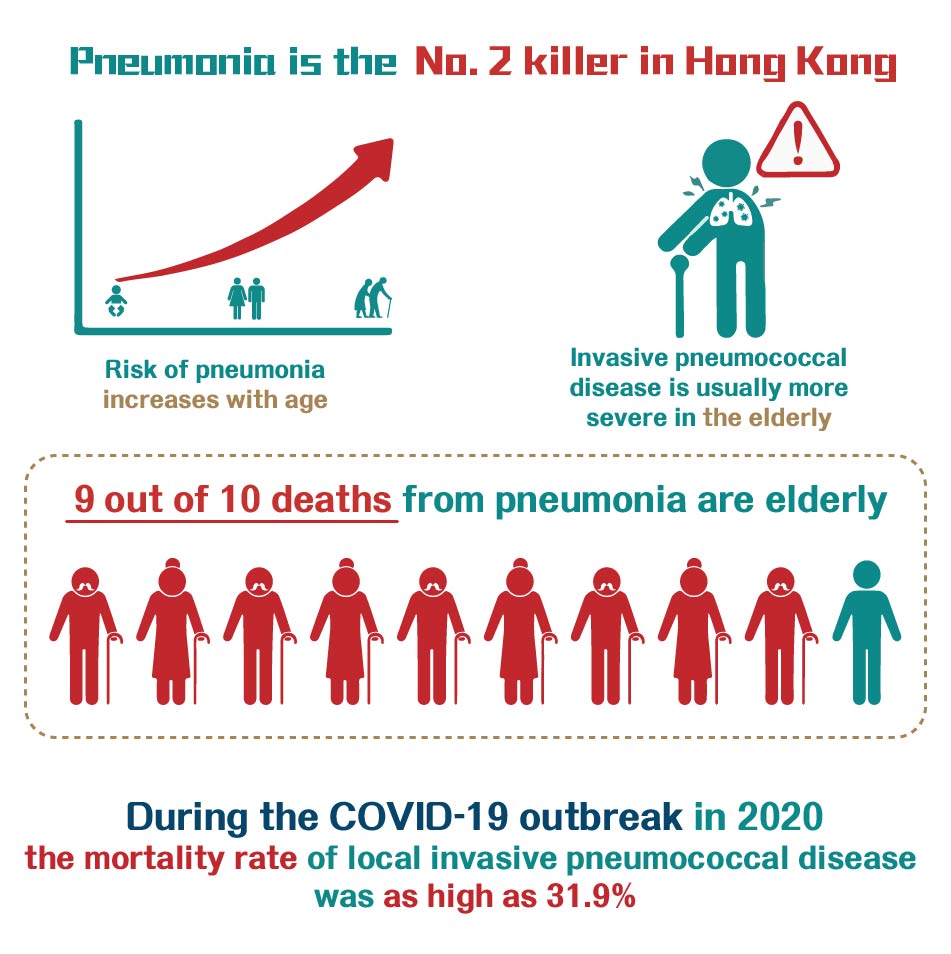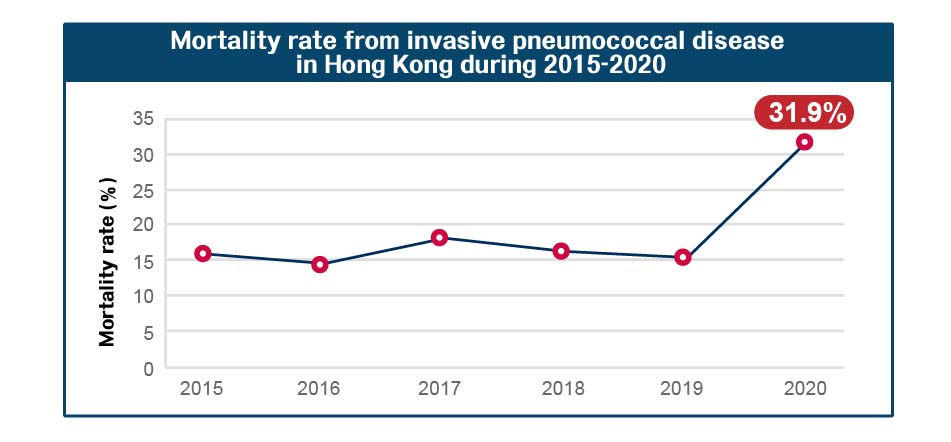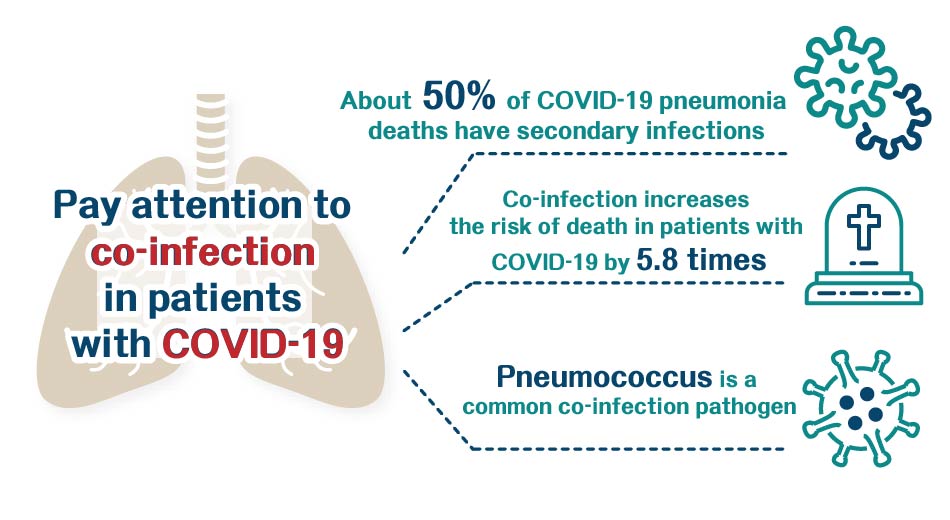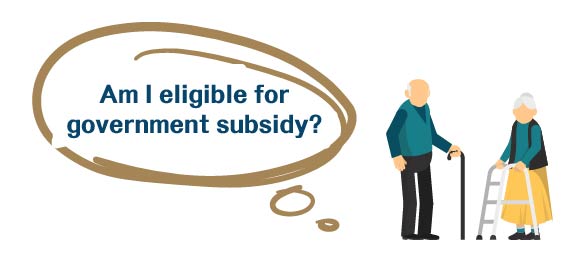 *High-risk individuals include:
History of invasive pneumococcal disease, cerebrospinal fluid leak, or cochlear implant
Long-term cardiovascular disease (except high blood pressure without complications), lung disease, liver disease or kidney disease
Metabolic disease including diabetes or obesity (BMI 30 or above)
Weak immune system (due to conditions such as asplenia, HIV infection/AIDS or cancer/steroid treatment)
Long-term neurological diseases that endanger respiratory function, difficulty in handling respiratory secretions, increased risk of foreign bodies entering the lungs, or lack of self-care ability
13-valent pneumococcal vaccine
Vaccine

Prevenar13®

Pharmaceutical factory

USA Pfizer

Number of serotypes

13types: 1, 3, 4, 5, 6A, 6B, 7F, 9V, 14, 18C, 19A, 19F and 23F

Number of inoculation

4 injections are recommended for babies from 6 weeks to 11 months
Only one injection for 2 years old or older

Features

Combination vaccine technology can promote immune memory, provide long-lasting protection
Used by 83 national childhood vaccine programs

Not suitable for

Have had severe allergic reactions after receiving pneumococcal conjugate vaccine or the components of the vaccine (including antigen and protein carrier)
Have had a severe allergic reaction after receiving a vaccine containing diphtheria vaccine components

Precautions

Before getting vaccinated, please check with your doctor for details due to your personal circumstances and vaccination records.
Pneumococcal 15‑valent Conjugate Vaccine
Vaccine Name

VAXNEUVANCE™

Pharmaceutical factory

US MSD

Number of serotypes

15 types:1, 3, 4, 5, 6A, 6B, 7F, 9V, 14, 18C, 19A, 19F, 22F, 23F, 33F

Number of inoculations

People over 18 years old only need 1 dose (intramuscular injection)

Features

The 15-valent pneumococcal vaccine is effective against serotype 3 pneumococcus, has a stronger immune response.
Prevent invasive pneumococcal infections such as pneumonia, acute otitis media, meningitis, sepsis, and others.
It has been approved for use by the US FDA and the European Union, as well as in the United Kingdom, the United States, Australia, and Canada.

Side Effects

Pain, swelling, redness at the injection site
Fatigue
Muscle pain
Headache
Joint pain
** Side effects are mild and only last for a short period of time.

Suitable for

18 years old or above.

Not suitable for

People who have had severe allergic responses to any component of the vaccination (including antigens and protein carriers).
People who have had severe allergic reactions to diphtheria vaccine components.

Precautions

Can be given inactivated influenza vaccination at the same time.
High-risk groups, such as the elderly, long-term patients, those who have had invasive pneumococcal illness, those with reduced immunity, and those with neurological problems, should be vaccinated with the 15-valent pneumococcal vaccine.