What is the HPV virus?
HPV (Human Papillomavirus) can be transmitted through skin-to-skin contact (mainly through sexual contact). There are usually no symptoms after infection. It can be roughly divided into high-risk and low-risk. The incubation period can be as long as 10 years, it will be transmitted from person to person, and there is currently no targeted drug. HPV infection can generally be cleared by the immune system on its own, but persistent infection can lead to various diseases caused by HPV virus. Up to 80% of sexually active people have a chance to be infected with HPV virus in their lifetime.

What is the HPV vaccine?
HPV vaccine (cervical cancer vaccine) is a preventive vaccine. The current HPV vaccine effectively prevents 9 types of HPV viruses, including 6, 11, 16, 18, 31, 33, 45, 52 and 58. It is suitable for women and men aged 9 or above. Both men and women are at risk of HPV infection and related diseases, while men have no obvious symptoms after infection, so early prevention is very important!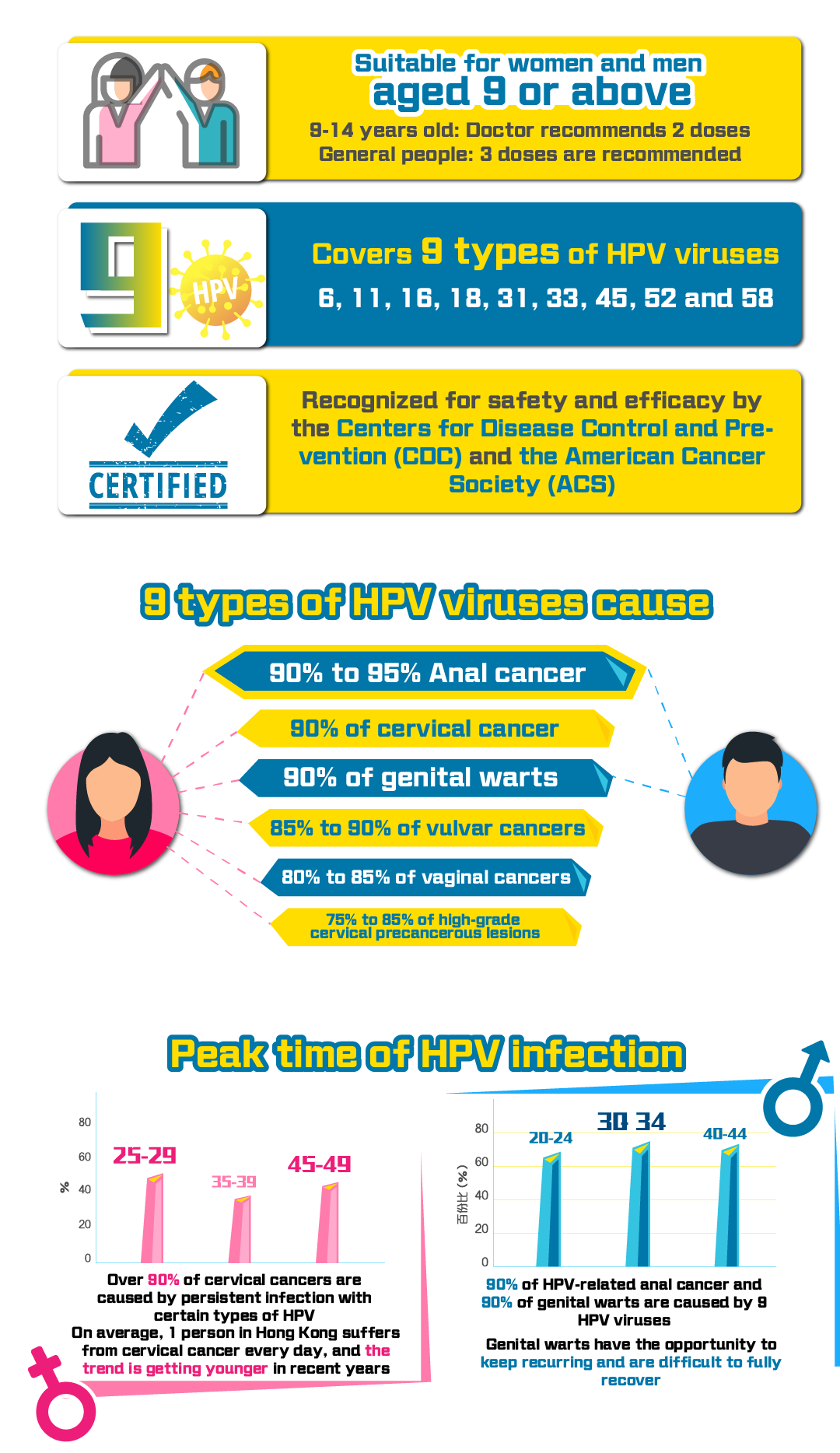 Risk of HPV infection
Only one or regular sexual partner can also be infected
Most infections clear up on their own, but some types of HPV can cause cancer and other diseases if infection persists
Up to 80% of men and women who have sexual experience have a chance to be infected with HPV in their lifetime
The use of condoms cannot completely prevent HPV infection


HPV Vaccine Included in Hong Kong Childhood Immunization Program
According to the 2020 data of the Hong Kong Center for Health Protection, starting from the 2019/20 school year, the Hong Kong Childhood Immunization Program will provide eligible primary school girls with HPV vaccination to prevent cervical cancer. The School Child Immunization Team under the Department of Health will visit schools to vaccinate girls in Primary 5 with the first dose of 9-Valent HPV vaccine, and the second dose will be given when the girls enter Primary 6 in the following school year.
Eligible Primary 5 girls who are not studying in Hong Kong can make an appointment for vaccination at the office of the School Children's Immunization Team.
FAQ:






*Part of the above information is provided by https://www.hpv.com.hk/ in Hong Kong and is for reference only. Please seek professional advice from your doctor before taking the vaccine.
The above vaccines do not treat genital warts, cervical cancer, vulvar and vaginal cancer, CIN, VIN or VaIN, nor can they prevent diseases not caused by HPV. As with all vaccines, vaccination does not necessarily protect all recipients.